Soprano
| Worldwide Representation
A shimmering soprano with enchanting stage presence, Heidi Grant Murphy is one of the outstanding vocal talents of her generation. She has established a reputation not only for her radiant musicianship and impeccable vocal technique, but also for her warm personality and generosity of spirit.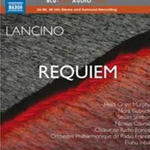 Performer: Heidi Grant Murphy, Nora Gubisch, Stuart Skelton, Nicolas Courjal, Choeur de Radio France, et al.
Orchestra: Orchestre Philharmonique de Radio France
1. 1. Prologue
2. 2. Kyrie
3. 3a. Psalm XVIII
4. 3b. Dies irae
5. 3c. Mors stupebit
6. 3d. Rex tremendae
7. 4. Ingemisco
8. 5. Confutatis
9. 6. Lacrimosa
10. 7. Offertorium
11. 8. Song of the Sibyl
12. 9. Sanctus
13. 10. Song of David
14. 11. Benedictus
15. 12. Agnus Dei
16. 13. Dona eis requiem
"And amid all of Mahler's - and Goethe's - angels was the most angelic singer on the planet: Heidi Grant Murphy. She stepped in at the end to present her usual miracle of control, beauty and sublimity."
— The New York Sun