Ensemble
| North American Representation
Quatuor Mosaïques is the most prominent period-instrument quartet performing today.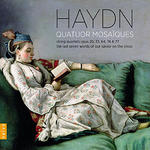 Franz Joseph Haydn (Composer), Quatuor Mosaiques (Orchestra), Erich Höbarth (Performer), Andrea Bischof (Performer), Anita Mitterer (Performer), Christophe Coin (Performer)
"...the group does tap into something well beyond mere notes and rests. No doubt this is what people mean when they talk about music casting a spell."
— The Philadelphia Inquirer