Orchestra
| Public Relations
The Seattle Symphony, a vital part of the Pacific Northwest cultural scene, is recognized for its extraordinary performances, programming, recordings and community engagement. Under the artistic leadership of Ludovic Morlot, one of the leading conductors of his generation, the Symphony performs or presents nearly 220 performances annually to an audience of more than 315,000 people.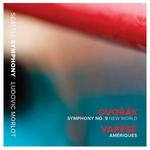 On June 9, Ludovic Morlot and the Seattle Symphony release the sixth disc on their Grammy-nominated in-house label, Seattle Symphony Media.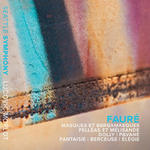 Ludovic Morlot, conductor
Demarre McGill, flute
Alexander Velinzon, violin
Efe Baltacigil, cello
Seattle Symphony Chorale
Seattle Symphony
GABRIEL FAURÉ: Masques et bergamasques
GABRIEL FAURÉ: Fantaisie for Flute / orch. Talmi
GABRIEL FAURÉ: Pelléas et Mélisande Suite
GABRIEL FAURÉ: Berceuse for Violin and Orchestra
GABRIEL FAURÉ: Élégie for Cello and Orchestra
GABRIEL FAURÉ: Dolly / orch. Rabaud
GABRIEL FAURÉ: Pavane
Faure's most beloved orchestral works are presented here in sumptuous, refined and beautifully recorded performances. With charismatic interpretations of the three short works for solo instruments and a rare recording of the choral version of the famous Pavane, this is a definitive collection of Faure's orchestral music.
Gerard Schwarz is one of the most controlled, poetic conductors around. His sense of restraint and precision of his sonic punctuation makes these very familiar symphonies seem fresh and alive every time.
— The Seattle Times