Orchestra
| Public Relations
Founded in 1903, the Seattle Symphony is one of America's leading symphony orchestras and is internationally acclaimed for its innovative programming and extensive recording history.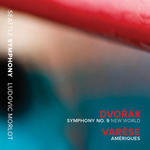 "Seattle, under Morlot's leadership, has proved itself to be one of the truly great and most vital American orchestras."
Ludovic Morlot, conductor
Seattle Symphony

HENRI DUTILLEUX

Métaboles
L'arbre des songes
Symphony No. 2, Le double

Total Timing: 73:08 // Catalog Number: SSM1007 // Producer: Dmitriy Lipay
Seattle Symphony Media page

Recorded in the S. Mark Taper Foundation Auditorium, Benaroya Hall, Seattle, Washington. Métaboles was recorded live in concert on September 25, 27 and 28, 2014.

L'arbre des songes was recorded on November 4 and 7, 2014.

Symphony No. 2, Le double was recorded live in concert on June 5 and 7, 2014.
Gerard Schwarz is one of the most controlled, poetic conductors around. His sense of restraint and precision of his sonic punctuation makes these very familiar symphonies seem fresh and alive every time.
— The Seattle Times