Piano
| Past Press Clients
Hailed by the Seattle Times as "the best thing to come out of Macedonia since Alexander the Great," Macedonian pianist Simon Trpceski has established himself as one of the most remarkable young musicians to have emerged in recent years, performing with many of the world's greatest orchestras and delighting audiences worldwide.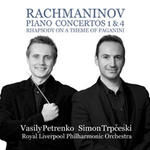 Piano Concertos Nos. 1 and 4; Rhapsody on a Theme of Paganini; (Simon Trp?eski, piano; Royal Liverpool Philharmonic Orchestra; Vasily Petrenko, conductor)
"Mr. Trpceski has formidable technique and energy to spare. He dispatched volleys of thick, crashing chords with steely tone and power, and conveyed contrasting passages of scampering runs with clarity and lightness. He tore through the double-octave outbursts with arm-blurring speed and no sense of strain. Yet in tenderly lyrical moments he caressed the phrases, playing with naturalness, never milking anything."
— The New York Times