String Quartet
| Public Relations
Winners of the 2017 Pro Musicis International Award, the Solera Quartet will be presented in a debut recital at Carnegie Hall's Weill Hall in October 2018.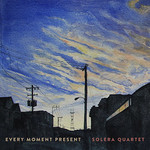 Caroline Shaw: Entr'acte
Leoš Janáček: String Quartet No. 2 "Intimate Letters"
2. Andante - Con moto - Allegro
3. Adagio - Vivace
4. Moderato - Andante - Adagio
5. Allegro - Andante - Adagio
Felix Mendelssohn: String Quartet in F Minor, Op. 80
6. Allegro vivace assai
7. Allegro assai
8. Adagio
9. Finale: Allegro molto
"This is a group that sees in musical mixology an opportunity for both new insight and full-bodied provocation."
— New York Times