Musical Recording Company
| Past Press Clients
Violin virtuoso Anne-Sophie Mutter, one of the most superbly gifted musicians of the past three decades, celebrates Felix Mendelssohn's bicentennial with the release of MENDELSSOHN, which includes Ms. Mutter's favorite symphonic and chamber works from the composer's repertoire: Violin Concerto in E minor, Op.64; Piano Trio in D minor, Op.49; and Sonata for Violin and Piano in F Major. To be released by Deutsche Grammophon on February 3--Mendelssohn's birthday--Anne-Sophie Mutter's personal tribute to Mendelssohn arrives shortly after her 2008 reception of Leipzig's Mendelssohn Prize, serving as further testament to her unique musicality and interpretation of the composer's works, as well as her tireless service to classical music. The release also includes a DVD version of each work: the full live performance of the Concerto, studio settings of the chamber works and the documentary Encounters with Mendelssohn, which features Ms. Mutter in conversation on Mendelssohn and his music.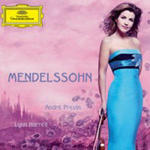 ANNE-SOPHIE MUTTER
MENDELSSOHN
(1809-1847):
Violin Concerto in E minor, Op.64 (1845)
Piano Trio No.1 in D minor, Op.49 (1839)
Sonata for Violin and Piano in F major (1838)
André Previn, Piano
Lynn Harrell, Cello
Gewandhaus Orchestra
Kurt Masur
Deutsche Grammophon Gessellschaft & Unitel Classica
MENDELSSOHN will be available on Deutsche Grammophon Records on February 3, 2009.
Click here to purchase the album.