Piano, Conductor
| North American Representation, Public Relations
Awarded Knighthood by Her Majesty Queen Elizabeth II in June 2014, Sir András Schiff is world-renowned and critically acclaimed as a pianist, conductor, pedagogue and lecturer.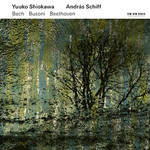 Andras Schiff, piano
Yūko Shiokawa, violin
J.S. Bach: Sonata No.3 In E Major, BWV 1016
Busoni: Sonata No.2 In E Minor, Op.36a, BV 244
Beethoven: Sonata No.10 In E Minor, Op.96
"He found song where others find formula; he conveyed song where others play scales."
— The Los Angeles Times