Ensemble
| Worldwide Representation, Public Relations
Embodying the quintessential elements of a chamber music ensemble, the Danish String Quartet has established a reputation for their integrated sound, impeccable intonation and judicious balance.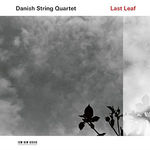 They are widely recognised as the most exciting young string quartet of the present moment, bringing new insights to contemporary composition and core classical repertoire.
***
In parallel, they have also made surprising and impressive forays into the world of Nordic folk music. Their 2014 album Wood Works (Dacapo Records) was a left-field hit, and audiences around the world have been delighted by concert performances of the music. Now the Danish String Quartet bring their folk project to ECM with a stirring new recording.
***
Last Leaf took its initial inspiration from an unusual Christmas hymn, "Now found is the fairest of roses", published in 1732 by Danish theologian and poet H.A. Brorson. The hymn is set to a mysterious, dark melody: Brorson had chosen an old Lutheran funeral choral to accompany his Christmas hymn, elegantly showing how life and death are always connected.
***
"From here we embark on a travel through the rich fauna of Nordic folk melodies until returning to Brorson in the end," say the DSQ. "It is a journey that could have been made in many different ways, but we believe that we returned with some nice souvenirs. In these old melodies, we find immense beauty and depth, and we can't help but sing them through the medium of our string quartet. Brorson found the fairest of roses, we found a bunch of amazing tunes – and we hope you will enjoy what we did to them."
"What they do know is how to be an exceptional quartet, whatever repertory they play."
— The New York Times