Mezzo-Soprano
| Worldwide Representation
Mezzo-soprano Jennifer Johnson Cano is recognized for her naturally lustrous sound as well as a fresh and appealing presence on symphonic, operatic and recital stages.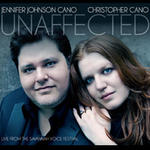 Jennifer Johnson Cano, Mezzo-Soprano and Christopher Cano, Piano
"Emotion suffused every moment of her eloquent, impassioned New York debut recital. She met with elegance and confidence all the challenges of a varied program... (She) has it: an honesty and assurance so impressive that you want to call it bravery. Hers is better than a good voice; it's an interesting one."
— The New York Times