Ensemble
| Past Press Clients
The Mirror Visions Ensemble has commissioned of over 80 works from 24 composers since its incepetion in 1992.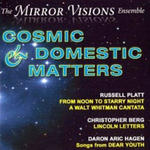 Lincoln Letters (Christopher Berg); Dear Youth: "Christmas Night", "The trouble was Tom was in love", "The Lord knows best", "O, for such a dream" (Daron Hagen); From Noon to Starry Night (Russell Platt). Richard Lalli, Margaret Kampmeier, Scott Murphree, Tobe Malawista, Jane Shelly, Jody Sheinbaum, Alan Darling.
"Unlike most chamber music enterprises, the Mirror Visions Ensemble is run by singers rather than instrumentalists, and its programs are shaped with an ear to the poetry of song texts rather than to overarching notions of musical style."
— New York Times