Ensemble
| Public Relations
The Mirror Visions Ensemble explores song repertoire from multiple points of view, often featuring back-to-back performances of diverse settings of a single text. Formed in 1992 by Tobé Malawista, Richard Lalli, and Scott Murphree, the New Haven-based not-for-profit organization continues to create new works, original and dramatic concerts, and develop programs designed to partner with visual exhibitions and events throughout the United States and Europe.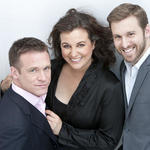 Winners of Young Composers Competition Announced in October; Debut of Two New Programs, Including a World Premiere
Clean Plates Don't Lie (Richard Pearson Thomas); The Months (Christopher Berg); A Visit with Emily (Tom Cipullo); The Three-Paneled Mirror: Emily's Truth (Cipullo), Theories of Perfection at Merkin Concert Hall (Thomas), The Ghost of Madame de Sévigné at the Carnavalet (Berg).
"Unlike most chamber music enterprises, the Mirror Visions Ensemble is run by singers rather than instrumentalists, and its programs are shaped with an ear to the poetry of song texts rather than to overarching notions of musical style."
— New York Times