Conductor
| Public Relations
Conductor, pianist, composer and pedagogue Robert Spano is known worldwide for the depth and intensity of his artistry as well as his unique communicative abilities.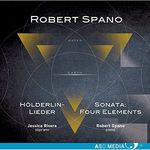 Two of conductor, composer and pianist Robert Spano's original works make up ASO Media's newest release. The album, rooted in the philosophical and divine nature of creativity, consists of the Hölderlin-Lieder song cycle (2013), based on the poetry of 18th century German poet Friedrich Hölderlin. Mr. Spano wrote the cycle for longtime colleague and collaborator, soprano Jessica Rivera, who performs the cycle on this recording. Mr. Spano writes, "The imagery of the poems sparked in me musical correspondences that I attempted to express through a late-nineteenth-century musical vocabulary, in homage to the masters of the intimate and exquisite form of lieder. I wrote them for soprano Jessica Rivera, whose beautiful voice and rich artistry were my muse in the process."

Following the song cycle is a piano sonata which Mr. Spano himself performs. Composed in 2016, Sonata: Four Elements, is a play on the typical four movements found in sonata form, with each movement's referring to one of the elements of nature: earth songs, air born, under water and on fire.
"As the cacophonies piled up and the rhythms came apart and the whole thing got really loud --- with percussionist Tom Sherwood whacking the life out of the big bass drum, which was positioned high and in back, like a sacrificial altar --- Spano's concept turned from modesty to savage brilliance."
— Atlanta Journal Constitution