Piano, Conductor
| Worldwide Representation
Pianist Benjamin Hochman's eloquent and virtuosic performances blend artistic bravura with poetic interpretation exciting audiences and critics alike.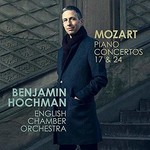 Wolfgang Amadeus Mozart
(1756–1791)

Piano Concerto No.17 in G major, K453
1. I. Allegro (11.50)
2. II. Andante (9.36)
3. III. Allegretto – Presto (7.41)
Piano Concerto No.24 in C minor, K491
4. I. Allegro (13.56)
5. II. Larghetto (7.18)
6. III. Allegretto (8.56)
Total time: 59.18
Recorded: 1-2 April 2019, St. John Smith Square, London
Producer: Eric Wen
Engineer: Dennis Patterson
"There is something very personable about his eloquent, intelligent, and serious manner and elegant flair, which translate into artistic integrity on stage. Whether on the podium, at the keyboard in recital, or performing chamber music, Hochman sees himself mostly as a musician, deeply dedicated to the spirit of collaboration, which also becomes a decisive element in his teaching. Once weekly, he holds a studio class as an educator on the faculty of Bard College. He feels that 'it's all about communication, knowing how to get the best results and how to inspire, whether that's audiences, orchestral collaborators, or students.'"
— Get Classical