Piano, Conductor
| Worldwide Representation
In all roles, from orchestral soloist, recitalist and chamber musician to conductor, Benjamin Hochman regards music as vital and essential.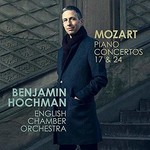 Wolfgang Amadeus Mozart
(1756–1791)

Piano Concerto No.17 in G major, K453
1. I. Allegro (11.50)
2. II. Andante (9.36)
3. III. Allegretto – Presto (7.41)
Piano Concerto No.24 in C minor, K491
4. I. Allegro (13.56)
5. II. Larghetto (7.18)
6. III. Allegretto (8.56)
Total time: 59.18
Recorded: 1-2 April 2019, St. John Smith Square, London
Producer: Eric Wen
Engineer: Dennis Patterson
"Mr. Hochman, whose career as a pianist has been thriving, took time off recently to study conducting. It was time well spent. The stylistic insight, elegance and sparkle of Mr. Hochman's pianism are beautifully matched by the playing of the orchestra."
— The New York Times