Ensemble
| Past Press Clients
The Emerson String Quartet has accumulated an unparalleled list of achievements over three decades, including over thirty acclaimed recordings and nine Grammys®.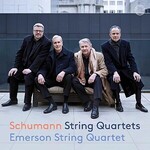 Robert Schumann (1810-1856)

String Quartet No. 1 in A Minor, Op. 41/1
String Quartet No. 2 in F Major, Op. 41/2
String Quartet No. 3 in A Major, Op. 41/3
"For nearly 40 years, the Emerson String Quartet has commanded a certain reverence from music lovers. Its polished and authoritative performances, its comprehensive and mighty discography, its fearless embrace of the new and unusual as well as the classics — all have placed this string quartet high in the pantheon of chamber music."
— Seattle Times