Tenor
| Worldwide Representation
Rising star tenor John Matthew Myers has been hailed an "artist to watch" by Opera News and is known for his insightful and beautifully nuanced performances.
"John Matthew Myers unfurled a lovely, warm tenor of considerable promise." - Opera News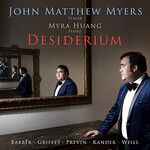 SAMUEL BARBER (1910–1981)
1. Knoxville: Summer of 1915 Op.24 17.57
CHARLES GRIFFES (1884–1920)
Three Poems of Fiona Macleod
2. The Lament of Ian the Proud 3.50
3. Thy Dark Eyes to Mine 2.38
4. The Rose of the Night 4.02
ANDRÉ PREVIN (1929–2019)
Four Songs for Tenor and Piano
5. Is It For Now 2.13
6. To Write One Song 3.00
7. Ad Infinitum 1.52
8. The Revelation 2.00
JOHN KANDER (b. 1927)
9. A Letter from Sullivan Ballou 8.10
KURT WEILL (1900–1950)
Four Walt Whitman Songs
10. Beat! Beat! Drums! 3.34
11. Oh Captain! My Captain! 4.53
12. Come Up from the Fields, Father 5.34
13. Dirge for Two Veterans 5.03
Total duration: 65.15
John Matthew Myers, tenor
Myra Huang, piano
Recorded: 15 & 17 November 2020, Oktaven Audio, Mount Vernon, NY
Recording produced by Marlan Barry
Engineering by Marlan Barry & Charles Mueller
Digital editing by Ian Striedter
Mixing and mastering by Marlan Barry
Publishers: Schirmer (1, 5–8); Kander and Ebb (9)
"Myers' sound is evenly produced and gorgeously colored throughout its range. He brought dramatic conviction to each reading, from the creeping uncertainty of the Elegy (after William Blake) to the bright and hopeful mythology of the Hymn (text by Ben Jonson). Myers' overall performance achieved a certain dreamlike quality that suited the nighttime setting evoked by the work's title, without growing hazy enough to eclipse its meaning or momentum."
— Bachtrack