Ensemble
| Worldwide Representation
The Orion String Quartet is praised for the fresh perspective and individuality it brings to performances, offering diverse programs that juxtapose standard quartet literature with masterworks by living composers.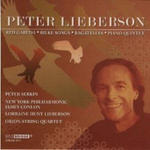 Red Garuda (Piano Concerto No. 2); Rilke Songs; Bagatelles; Piano Quintet (Orion String Quartet; Peter Serkin, piano; New York Philharmonic; James Conlon, conductor; Lorraine Hunt Lieberson, mezzo-soprano)
"The persuasive power of (their) performance came from the exquisiteness and eloquence the four players brought their lines...but it also came from how all of them phrased together - and, it seemed, breathed together. The Orion Quartet is a configuration of particular sensitivity and bravado."
— The New York Times