The 2020 Piatigorsky International Cello Festival, listed by The New York Times as a classical season highlight, comes to Los Angeles March 13 -22, presented by the University of Southern California Thornton School of Music and the Los Angeles Philharmonic, with support from The Strad and classical music radio KUSC. This truly unparalleled, 10-day, 42-event Festival, brings together masters of the cello and young cellists from around the world, in a remarkable quadrennial celebration of the cello (the last iteration was in 2016). More than 30 renowned international artists representing 15 countries and four continents will participate in dozens of concerts, workshops and master classes. The Festival and its Artistic Director, Ralph Kirshbaum, have recently announced a few changes and additions, including the appearance of 2019 Tchaikovsky Competition Winner Zlatomir Fung; an update on Julia Adolphe's newly commissioned work for Ralph Kirshbaum and the Los Angeles Philharmonic; and an expansion of the Exhibition Hall, an on-site mini-expo for lovers and players of fine stringed instruments. Tickets to all 42 events of this truly unique international celebration of the cello are now on sale.
Pictured: Julia Adolphe
As a promising young cellist, Zlatomir Fung was invited to be a Fellow at the Piatigorsky International Cello Festival in 2016. Just four years later, the 20-year-old cellist returns to the Festival as the first American in four decades and youngest musician ever to win First Prize at the International Tchaikovsky Competition Cello Division in 2019. Fung steps in to take the place of Thomas Demenga (who, unfortunately, had to withdraw from the Festival for medical reasons) in a concert with the Piatigorsky Festival Orchestra. Fung and the orchestra perform Finnish composer Aulis Sallinen's Nocturnal Dances of Don Juanquixote, a piece commissioned by and first performed at the Naantali Music Festival in Finland in 1986, where it was performed by cellist Arto Noras (the dedicatee), with Vladimir Ashkenazy conducting the English Chamber Orchestra.
The Festival concludes on March 22 with concerts that feature two world premieres: an LA Phil commission for Ralph Kirshbaum by Julia Adolphe and the world premiere of a New Music USA Commission for SAKURA Cello Quintet, Carving an Alphabet, by Donald Crockett. The piece by Adolphe, now complete, was a true collaboration with the soloist, Ralph Kirshbaum, who said, "What a joy it has been to collaborate so closely with Julia Adolphe on her exquisite and poignant new tone poem, Chrysalis, for cello and orchestra, the last notes of which have just arrived. I am very excited to be giving its premiere, together with the LA Phil, on the closing day of the Piatigorsky International Cello Festival." Adolphe also felt a sense of collaboration, and said, "It has been a joy composing Chrysalis for Ralph Kirshbaum, Karen Kamensek, and the Los Angeles Philharmonic. Ralph's deep lyricism and shining tone provided great inspiration for the work, which traces the cello's journey through despair and empowerment, from yearning to belong to an elusive orchestral force towards embracing its own individual voice."
Donald Crockett has known and appreciated the fine young cellists of SAKURA for quite some time, and he was delighted to create a new piece for them for the Piatigorsky Festival. "SAKURA began several years ago with a core repertory including direct transcriptions of Renaissance madrigals," Crockett said; "I decided to compose a new book of madrigals (without words and in a 21st-century vein) to celebrate the virtuosity and range of expression of these terrific musicians."
This year's festival also features an expanded Exhibition Hall filled with more than 20 of the world's finest violin dealers, appraisers and makers all in one place, on Friday and Saturday, March 20-21. Six of the exhibitors – J & A Beare; Bein & Fushi; Florian Leonhard Violins; Rare Violins of New York; Reuning & Son Violins; and Tarisio Fine Instruments and Bows – are generously supporting the festival as Major Benefactors.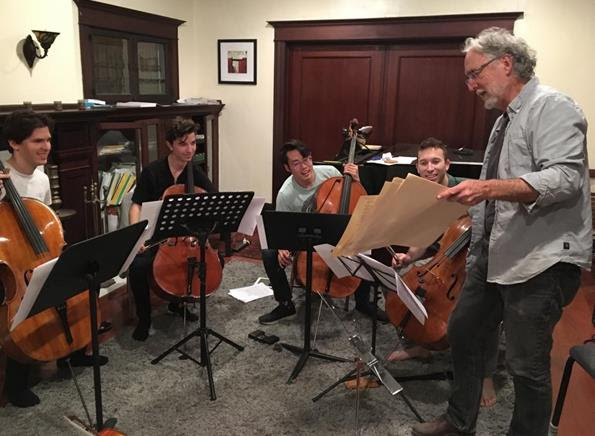 Pictured: Donald Crockett (left) with the members of SAKURA
Cellists:
Ye Lin (Stella) Cho • Evan Drachman • Chiara Enderle Samatanga • Zlatomir Fung • David Geringas • Clive Greensmith • Narek Hakhnazaryan • Frans Helmerson • Steven Isserlis • Michael Kaufman • Terry King • Ralph Kirshbaum • Maria Kliegel • Jacob Koranyi • Benjamin Lash • Laurence Lesser • Antonio Lysy • Jens Peter Maintz • Mischa Maisky • Yoshika Masuda • Peter Myers • Jean-Guihen Queyras • Wolfgang Emanuel Schmidt • Inbal Segev • Andrew Shulman • Giovanni Sollima • Jeffrey Solow • Kian Soltani • Torleif Thedeen • Camille Thomas • Laura van der Heijden • Quirine Viersen • Raphael Wallfisch • Wendy Warner
Pianists:
Bernadene Blaha • Ya-Fei Chuang • Vivian Fan • Kevin Fitz-Gerald • Fabio Bidini • Alin Melik-Adamyan • Juho Pohjonen • Robert Thies
Conductors:
Hilo Carriel • Karen Kamensek • Carl St.Clair
Violist:
Yura Lee
Soprano:
Sarah Shafer
Ensembles:
Los Angeles Philharmonic • USC Thornton Symphony • Piatigorsky Festival Orchestra • SAKURA
Pictured: Ralph Kirshbaum, Master Class, Piatigorsky International Cello Festival, 2016
Tickets to each Piatigorsky International Cello Festival event are now available for purchase by calling the USC Thornton Ticket Office at 213.740.4672 or clicking here.
1. All-Festival Pass
a. Adult $995.00
b. Non-USC Student/Senior $850.00
c. USC Community $600.00
2. Opening Weekend package
a. Adult $300.00
b. Non-USC Student/Senior $250.00
c. USC Community $200.00
3. Bach/Evening Recital Series package
a. Adult $425.00
b. Non-USC Student/Senior $350.00
c. USC Community $225.00
4. Lunch Series package
a. Adult $200.00
b. Non-USC Student/Senior $150.00
c. USC Community $100.00
5. Festival One-Day Pass
a. Prices vary per day
FESTIVAL SCHEDULE
All venues are at USC, with the exception of the concerts at the Walt Disney Concert Hall
Friday, March 13, 2020
Opening Gala Concert
7:30PM • Bovard Auditorium
USC Thornton Symphony
Carl St.Clair, conductor
Mischa Maisky, cello
Yura Lee, viola

Beethoven: "Egmont" Overture, Op.84
R. Strauss: Don Quixote, Op. 35
Saturday, March 14, 2020
Mischa Maisky: Reflections on the Challenges and Joys of a Musician's Life
11:00AM-12:30PM • Alfred Newman Recital Hall

Piatigorsky Film and Panel
Cellist: The Legacy of Gregor Piatigorsky
A film by Murray Grigor and Hamid Shams
3:00PM • Alfred Newman Recital Hall
Panel featuring former students of Piatigorsky
Terry King
Laurence Lesser
Mischa Maisky
Jeffrey Solow
Raphael Wallfisch
and special guest, Piatigorsky's grandson,
Evan Drachman

Gail Eichenthal, moderator
Senior Director, community engagement, USC Radio Group

Mr. Blok Book Launch
5:30pm • Alfred Newman Recital Hall
A previously unpublished novel, "Mr. Blok" by Gregor Piatigorsky, introduced by his son, Joram Piatigorsky.
Underwritten by Adelaide Books

Recital Gala
8:00PM • Bovard Auditorium
Pre-Concert Talk at 7:30PM presented by American cellist, Jeffrey Solow
Underwritten by Florian Leonhard Fine Violins

Cello:
Chiara Enderle Samatanga
David Geringas
Frans Helmerson
Antonio Lysy
Mischa Maisky
Andrew Shulman
Laura van der Heijden
Quirine Viersen
Raphael Wallfisch
Piano:
Bernadene Blaha
Fabio Bidini
Juho Pohjonen
Robert Thies
Schumann: Fantasy Pieces, Op. 73 (Helmerson/Pohjonen)
Mendelssohn: Cello Sonata No. 1 in B-flat Major, Op. 45 (Lysy/Blaha)
Brahms: Cello Sonata in e minor, Op. 38 (Wallfisch/Pohjonen)
Mendelssohn: Song Without Words (Viersen/Thies)
Schumann: Five Pieces in Folk Style, Op. 102 (van der Heijden/Thies)
Mendelssohn: Cello Sonata No. 2 in D Major, Op. 58 (Geringas/Pohjonen)
Schumann: Adagio and Allegro (Enderle Samatanga/Thies)
Mendelssohn: Variations Concertantes, Op. 17 (Shulman/Blaha)
Brahms: Cello Sonata in F Major, Op. 99 (Maisky/Bidini)
Sunday, March 15, 2020
Master Class with Maria Kliegel
10:00AM • Alfred Newman Recital Hall
Underwritten by The Andrew B. Kim and Wan Kyun Rha Family Foundation, Inc.
Ty Kim and Felicia Paik Kim
Lunch Series Concert
1:00PM • Alfred Newman Recital Hall
Jakob Koranyi, cello
Underwritten by the Church Family in Honor and Memory of Frank V. Church

A. Hillborg: Duo for Cello and Piano
M. Lysenko: Sum, Elegy for Cello and Piano
Shostakovich: Sonata for Cello and Piano, Op. 40
Jakob Koranyi, cello
Juho Pohjonen, piano

Master Class with Frans Helmerson
3:00PM • Alfred Newman Recital Hall
Underwritten by The Andrew B. Kim and Wan Kyun Rha Family Foundation, Inc.
Ty Kim and Felicia Paik Kim

Bach Series
7:00 pm • Alfred Newman Recital Hall
QuirineViersen, cello
Bach: Cello Suite No. 1
Underwritten by Joan A. Friedman, PhD and Robert N. Braun, MD, USC Glorya Kaufman School of Dance

Piatigorsky Festival Orchestra
8:00PM • Bovard Auditorium
Underwritten by The Parisot Family in Honor and Memory of Aldo Parisot

Margaret Batjer, leader
Jens Peter Maintz, cello
Wolfgang Emanuel Schmidt, cello
Giovanni Sollima, cello
Zlatomir Fung, cello
Raphael Wallfisch, cello
SAKURA

Vivaldi: Concerto for Two Cellos in g minor, RV 531 (Maintz and Schmidt)
Weinberg: Concertino (Wallfisch)
Sallinen: Nocturnal Dances of Don Juanquixote (Fung)
Sollima: Violoncelles vibrez! (Sollima, Vardai, and SAKURA)
Costanzi: Concerto in G Major (Sollima)
Costanzi: Concerto in F Major (Sollima)
Monday, March 16, 2020
Master Class with Wolfgang Emanuel Schmidt
10:00AM • Alfred Newman Recital Hall
Underwritten by The Andrew B. Kim and Wan Kyun Rha Family Foundation, Inc.
Ty Kim and Felicia Paik Kim

Lunch Series Concert
1:00PM • Alfred Newman Recital Hall
Quirine Viersen, cello

JacobTV: Glacier (US Premiere)
Britten: Cello Suite No. 1

Master Class with Raphael Wallfisch
3:00PM • Alfred Newman Recital Hall
Underwritten by The Andrew B. Kim and Wan Kyun Rha Family Foundation, Inc.
Ty Kim and Felicia Paik Kim

Bach Series
7:00PM • Alfred Newman Recital Hall
Frans Helmerson, cello
Bach: Cello Suite No. 2
Underwritten by Joan A. Friedman, PhD and Robert N. Braun, MD, USC Glorya Kaufman School of Dance

Evening Recital
8:00 PM • Bovard Auditorium
Maria Kliegel, cello
Robert Thies, piano
David Geringas, cello
Bernadine Blaha, piano
Underwritten by Bein & Fushi
George Onslow: Cello Sonata Op. 16, No. 3
Camillo Schumann: Cello Sonata in g minor, Op. 59, No. 1
Fazil Say: "Bodrum" from Four Cities
Maria Kliegel, cello
Robert Thies, piano
Weinberg: Cello Sonata, Op. 63, No. 2
Grigory Krein: Poéme
Yulian Krein: Sonata-Poem for Cello and Piano
David Geringas, cello
Bernadene Blaha, piano
Tuesday, March 17, 2020
Master Class with Torleif Thedéen
10:00AM • Alfred Newman Recital Hall
Underwritten by The Andrew B. Kim and Wan Kyun Rha Family Foundation, Inc.
Ty Kim and Felicia Paik Kim

Lunch Series Concert
1:00PM • Alfred Newman Recital Hall
Kian Soltani, cello
Underwritten by Darnton & Hersh Fine Violins

Arvo Pärt: Fratres
Reza Vali: "The Girl from Shiraz" and
"Love Drunk (mastom-mastom)" from Persian Folk Songs (Set.16C)
Rachmaninov: Cello Sonata, Op. 19
Kian Soltani, cello
Bernadene Blaha, piano

Master Class with Ralph Kirshbaum
3:00PM • Alfred Newman Recital Hall
Underwritten by The Andrew B. Kim and Wan Kyun Rha Family Foundation, Inc.
Ty Kim and Felicia Paik Kim
Bach Series
7:00PM • Alfred Newman Recital Hall
Jakob Koranyi, cello
Bach: Cello Suite No. 3
Underwritten by Joan A. Friedman, PhD and Robert N. Braun, MD, USC Glorya Kaufman School of Dance

Evening Recital
8:00PM • Bovard Auditorium
Cello Duello:
Jens Peter Maintz, cello
Wolfgang Emanuel Schmidt, cello
Underwritten by Reuning and Son Violins

Haydn: Duo in G Major Hob: XII:1+4 (Cello Duello)
Adagio cantábile
Allegro
Minuetto
Allegro molto
Dutilleux: Trois strophes sur le nom de Sacher (Maintz)
Paganini: Cantabile (Cello Duello)
Prokofiev: March for Children (arr. Piatigorsky) (Schmidt)
Weinberg: Prelude No. 21 (Schmidt)
Piatigorsky: Promenade: Prokofiev Meets Shostakovich (Schmidt)
Rostropovich: Etude (Schmidt)
Weber: Adagio und Rondo (arr. Piatigorsky, transcribed for two cellos) (Cello Duello)
Offenbach: Duo in E Major, Op. 54 (Cello Duello)
Händel-Halvorsen: Passacaglia in g minor, arr. Cello Duello (Cello Duello)

Wednesday, March 18, 2020
Master Class with Jens Peter Maintz
10:00AM • Alfred Newman Recital Hall
Underwritten by The Andrew B. Kim and Wan Kyun Rha Family Foundation, Inc.
Ty Kim and Felicia Paik Kim

Lunch Series Concert
1:00PM • Alfred Newman Recital Hall
Inbal Segev, cello
Juho Pohjonen, piano
Underwritten by The Mari and Ed Edelman Charitable Fund

Poulenc: Sonata for Cello and Piano
Inbal Segev, cello
Juho Pohjonen, piano

Gity Razaz: Legend of Sigh: Concerto for Cello and Electronics
Inbal Segev, cello

Improvisation Workshop
3:00pm • Alice and Eleonore Scheonfeld Symphonic Hall
Giovanni Sollima, cello
Festival Fellows
Underwritten by Nigel Hirst

Bach Series
7:00PM • Alfred Newman Recital Hall
Pre-concert talk at 6:30PM on the Bach Suites presented by Jeffrey Solow
Laurence Lesser, cello
Bach: Cello Suite No. 4
Underwritten by Joan A. Friedman, PhD and Robert N. Braun, MD, USC Glorya Kaufman School of Dance

Evening Recital
8:00PM • Bovard Auditorium
Wendy Warner, cello
Kevin Fitz-Gerald, piano
Torleif Thedéen, cello
Juho Pohjonen
Underwritten by Rare Violins of New York

Myaskovsky: Cello Sonata No. 2 in a minor, Op. 81
Britten: Cello Sonata in C Major, Op. 65
Wendy Warner, cello
Kevin Fitz-Gerald, piano

Barber: Cello Sonata, Op. 6
Grieg: Cello Sonata in a minor, Op. 36
Torleif Thedéen, cello
Juho Pohjonen, piano
Thursday, March 19, 2020
Master Class with Laurence Lesser
10:00AM • Alfred Newman Recital Hall
Underwritten by The Andrew B. Kim and Wan Kyun Rha Family Foundation, Inc.
Ty Kim and Felicia Paik Kim

Lunch Series Concert
1:00PM • Alfred Newman Recital Hall
Chiara Enderle Samatanga, cello

Beethoven: Cello Sonata in C Major, Op. 102, No. 1
Chiara Enderle Samatanga, cello
Robert Thies, piano
Penderecki: Capriccio per Siegfried Palm for Solo Cello
Chiara Enderle Samatanga, cello
Stravinsky: Suite Italienne
Chiara Enderle Samatanga, cello
Robert Thies, piano

Master Class with Steven Isserlis
3:00PM • Alfred Newman Recital Hall
Underwritten by The Andrew B. Kim and Wan Kyun Rha Family Foundation, Inc.
Ty Kim and Felicia Paik Kim

Bach Series
7:00PM • Alfred Newman Recital Hall
Jean-Guihen Queyras, cello
Bach: Cello Suite No. 5
Underwritten by Joan A. Friedman, PhD and Robert N. Braun, MD, USC Glorya Kaufman School of Dance

Evening Recital
8:00PM • Bovard Auditorium
Giovanni Sollima, cello
Zlatomir Fung, cello
Bernadene Blaha, piano
Underwritten by Tarisio Fine Instruments & Bows

Giovanni Sollima: Concerto rotondo
Giulio de Ruvo (sec XVII): Romanella and Tarantella for violoncello senza basso
Alfredo Piatti: Tema con variazioni sul Carafa
Eliodoro Sollima: Sonata 1959 for cello solo
Francesco Corbetta: Caprice de Chaconne (arr. G. Sollima)
Traditional Salento: Santu Paulu
Giovanni Sollima: Fandango after Boccherini
Giovanni Sollima, cello Copland: Waltz and Celebration from Billy the Kid, arr for cello and piano Chopin: Nocturne in C-Sharp Minor, B. 49, arr. for cello and piano by Gregor Piatigorsky Schubert: Sonata in A minor, Arpeggione, D. 821, arr. for cello and piano David Popper: Hungarian Rhapsody for cello and piano, op. 68 Zlatomir Fung, cello
Bernadene Blaha, piano
Friday, March 20, 2020
9:00am-6:00pm • Town and Gown
Festival Exhibition Hall Open
Laura van der Heijden with Los Angeles Philharmonic
11:00AM • Walt Disney Concert Hall
Los Angeles Philharmonic
Karen Kamensek, conductor
Laura van der Heijden, cello
Pépin: Vajrayana
Haydn: Cello Concerto No. 1 in C Major
Mendelssohn: Symphony No. 3, "Scottish"


Lunch Series Concert
2:00PM • Alfred Newman Recital Hall
Camille Thomas, cello
Underwritten by Ruth Y. Goldway

Prokofiev: Sonata for Cello and Piano in C Major, Op. 119
Beethoven: Cello Sonata in A Major, Op. 69
Camille Thomas, cello
Kevin Fitz-Gerald, piano

Master Class with David Geringas
4:00PM • Alfred Newman Recital Hall
Underwritten by The Andrew B. Kim and Wan Kyun Rha Family Foundation, Inc.
Ty Kim and Felicia Paik Kim

Bach Series
7:00PM • Alfred Newman Recital Hall
Jakob Koranyi, cello
Bach: Cello Suite No. 6
Underwritten by Joan A. Friedman, PhD and Robert N. Braun, MD, USC Glorya Kaufman School of Dance


Evening Recital
8:00PM • Bovard Auditorium
Jean-Guihen Queyras, cello
Steven Isserlis, cello
Ya-Fei Chuang, piano
Underwritten by J. & A. Beare

Ligeti: Sonata for Solo Cello
Kodály: Solo Sonata, Op. 8
Jean-Guihen Queyras, cello

Beethoven: 12 Variations in F Major Ein Mädchen oder Weibchen
Schumann: Three Romances, Op. 94
Kabalevsky: Cello Sonata in B-flat Major, Op. 71
Steven Isserlis, cello
Ya-Fei Chuang, piano
Saturday, March 21, 2020
9:00am-6:00pm • Town and Gown
Festival Exhibition Hall Open

Instrument Forum
11:30AM • Alfred Newman Recital Hall

Featuring Joseph Bein/Bein & Fushi
Florian Leonhard/Florian Leonhard Violins
Simon Morris/J. & A. Beare
Bruno Price/Rare Violins of New York
Jason Price/Tarisio Fine Instruments & Bows
Chris Reuning/Reuning and Son Violins
Andrew Shulman, moderator

Lunch Series Concert
2:00PM • Alfred Newman Recital Hall
Clive Greensmith, cello
Narek Hakhnazaryan, cello
Underwritten by Jennifer Langham and Earle Crandall in Honor and Memory of Albert Mason

Pál Hermann: Cello Concerto, First Movement
Martinů: Cello Sonata No. 1
Clive Greensmith, cello
Robert Thies, piano

Tsintzadze: Five Folk Pieces for Cello and Piano
Bagdasaryan: Nocturne
Harutyunyan: Impromptu
Tchaikovsky: Nocturne No. 4, Op. 19
Rostropovich: Humoresque
Narek Hakhnazaryan, cello
Kevin Fitz-Gerald, piano

Master Class with Jean-Guihen Queyras
4:00PM • Alfred Newman Recital Hall
Underwritten by The Andrew B. Kim and Wan Kyun Rha Family Foundation, Inc.
Ty Kim and Felicia Paik Kim

Kian Soltani with the Los Angeles Philharmonic
8:00PM • Walt Disney Concert Hall
Los Angeles Philharmonic
Karen Kamensek, conductor
Kian Soltani, cello

Pépin: Vajrayana
Schumann: Cello Concerto in a minor, Op. 129
Mendelssohn: Symphony No. 3, "Scottish"
Sunday, March 22, 2020
Workshop for Young Cellists
11:30AM • Alice and Eleonore Schoenfeld Symphonic Hall
Led by Clive Greensmith, cello


Ralph Kirshbaum with the Los Angeles Philharmonic
2:00PM • Walt Disney Concert Hall
Los Angeles Philharmonic
Karen Kamensek, conductor
Ralph Kirshbaum, cello

Pépin: Vajrayana
Julia Adolphe: Chrysalis for Cello and Orchestra (world premiere, LA Phil commission)
Mendelssohn: Symphony No. 3, "Scottish"

Colburn Celebrity Series Recital
7:30PM • Walt Disney Concert Hall
Jean-Guihen Queyras, cello
Camille Thomas, cello
Narek Hakhnazaryan, cello
SAKURA
Mass Cello Ensemble
Hilo Carriel, conductor
Sarah Shafer, soprano

Franck: Sonata for Cello and Piano in A Major
Jean-Guihen Queyras, cello
Juho Pohjonen, piano

Debussy: Sonata for Cello and Piano in d minor
Milhaud: Braziliera
Camille Thomas, cello
Bernadene Blaha, piano

Faure: Elegy, Op. 24
Paganini: Variations on the G String
Narek Hakhnazaryan, cello
Kevin Fitz-Gerald, piano

Donald Crockett: Carving an Alphabet (World Premiere, Comissioned by New Music USA)
Debussy: The Girl with the Flaxen Hair
SAKURA

Villa-Lobos: Bachianas Brasilieras No. 5
Bach: Air
Mass Cello Ensemble
Hilo Carriel, conductor
Sarah Shafer, soprano