Cello
| North American Representation
Artistic Director of the Piatigorsky International Cello Festival, the distinguished career of Ralph Kirshbaum places him in the highest echelon of today's cellists.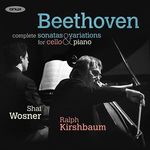 Complete Cello and Piano Sonatas and Variations out December 9.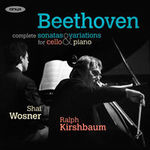 Ralph Kirshbaum & Shai Wosner, recorded live at London's Wigmore Hall.
"Kirshbaum's set, with pianist Shai Wosner, is the ideal of modern Beethoven. Beautifully recorded, it boasts Beethoven as we imagine him today. Cello and piano are perfectly balanced. Both musicians have big, involving tones that pick every Beethovenian nuance. The performances are straightforward to the point of being all Beethoven, all the time. How in the world could the Grammys have missed this one in its recent chamber music nominations?"
— Los Angeles Times