Ensemble
| Worldwide Representation, Public Relations
Embodying the quintessential elements of a chamber music ensemble, the Danish String Quartet has established a reputation for their integrated sound, impeccable intonation and judicious balance.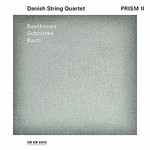 The Danish String Quartet's Grammy-nominated Prism project links Bach fugues, late Beethoven quartets and works by modern masters. In volume two of the series, Bach's Fugue in Bb minor from the Well-Tempered Clavier (in the arrangement by Viennese composer Emanuel Aloys Förster) is brought together with Beethoven's String Quartet Op. 130 and Alfred Schnittke's String Quartet No.3 (composed in 1983). As the quartet explains, "A beam of music is split through Beethoven's prism. The important thing to us is that these connections be experienced widely. We hope the listener will join us in the wonder of thee beams of music that travel all the way from Bach through Beethoven to our own times." Recorded in historic Reitstadel Neumarkt and produced by Manfred Eicher, the album is issued as the Danish String Quartet embarks on a tour with dates on both sides of the Atlantic, climaxing with a run of Prism concerts on the West Coast of the U.S. The Quartet plays the full Prismcycle at La Jolla Music Society over five concerts in late November.
"What they do know is how to be an exceptional quartet, whatever repertory they play."
— The New York Times