Ensemble
| North American Representation, Public Relations
Contemporary and endlessly innovative Nordic folk music trio.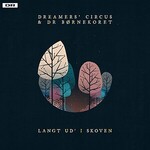 Dreamers' Circus
DR Børnekoret, conducted by Susanne Wendt
Together with the folk music band Dreamers' Circus, the DR Children's Choir has recorded a new album of old Danish children's songs in new arrangements of Dreamers' Circus.
"Everything, anything is fodder for a song. They gather up impressions from wherever their travels take them and share. They thrust us into discoveries or sweep us into a meditative moment when being at one with the world is o.k. It's immersive with mind, heart, body, and soul in music's sway and lift."
— Nuvo