Violin
| North American Representation, Public Relations
Midori is a visionary artist, global cultural ambassador, and dedicated music educator.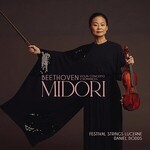 Midori, violin
Daniel Dodds, leader
Festival Strings Lucerne
Violin Concerto, Op. 61 in D Major
Romance No. 1 in G Major, Op. 40
Romance No. 2 in F Major, Op. 50
"Midori's interpretation, in a word, was simply magical... No encore was needed; the audience was already speechless."
— Houston Chronicle