Violin
| North American Representation, Public Relations
Midori is a visionary artist, global cultural ambassador, and dedicated music educator.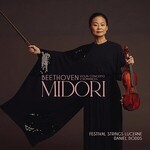 Midori, violin
Daniel Dodds, leader
Festival Strings Lucerne
Violin Concerto, Op. 61 in D Major
Romance No. 1 in G Major, Op. 40
Romance No. 2 in F Major, Op. 50
"More than 30 years after bursting on the scene as a pint-size violin prodigy, Midori continues to set an example for how to be an engaged musician in the modern world."
— San Francisco Chronicle