Ensemble
| North American Representation
The Pavel Haas Quartet is revered across the globe for its richness of timbre, infectious passion and intuitive rapport.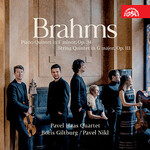 Their recording of the American Quartet and String Quartet No. 13, Op. 106 (Gramophone Award – Recording of the Year), elevated the Pavel Haas Quartet among the finest performers of Antonín Dvořák's music. This position was subsequently confirmed by a recording of the composer's quintets, made with the violist Pavel Nikl, a founding member of the ensemble, and the pianist Boris Giltburg, winner of the Queen Elisabeth Competition. The album received the most coveted classical music accolades (Gramophone Chamber Award, BBC Radio 3 Record Review Discs of the Year, Diapason d'Or, etc.). While recording the Dvořák quintets, the logical idea of a Brahms album was born. And now it has come to fruition. Dvořák was encouraged by and ultimately attained global fame owing to the kind support and friendship of his older colleague Brahms, who in his twenties had been just as generously aided by Clara and Robert Schumann. Brahms' relationship with Clara is probably also behind the Piano Quintet in F minor, Op. 34. Originally conceived as a string quintet, in the spring of 1864 Brahms transformed it into a sonata for two pianos, yet Clara voiced her doubts about this version's sound too. The desired contrast and richness of colour was ultimately achieved by combining the strings and the piano. Clara Schumann performed the piano part at the private premiere of the quintet, which she referred to as having "symphonic" proportions. This aspect is clearly foregrounded on the present Pavel Haas Quartet recording. Brahms allegedly intended the String Quintet in G major, Op. 111, to be his last piece of music. In this light, it may come across as a reflection of the music he had cherished during his life – from Beethoven, Schubert, the Viennese waltz, his contemporary Wagner, to his beloved Hungarian dance motifs.
"They represent the best qualities of the Czech tradition – warmth, sonorousness, individuality, intensity; but what's striking here is their fearless risk-taking, their fervency and the absolute confidence with which they propel you through these two masterpieces."
— Gramophone