Conductor
| North American Representation, Public Relations
Conductor, pianist, composer and pedagogue Robert Spano is known worldwide for the depth and intensity of his artistry as well as his unique communicative abilities.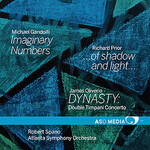 Featuring works by three composers who have a special relationship with the Atlanta Symphony Orchestra, ASO Media's latest release is a celebration of both the Orchestras 75th anniversary and the two-decade tenure of its fourth music director, Robert Spano. The album captures the collaborative nature of Spano and the Atlanta Symphony Orchestra, who established the Atlanta School to champion the next generation of American composers. The recording is comprised of studio recordings of Michael Gandolfi's quadruple concerto Imaginary Numbers, Richard Prior's lyrical tone poem of ...shadow and light... and James Oliverio's DYNASTY: Double Timpani Concerto, which was commissioned by and written for ASO principal timpanist Mark Yancich and his brother Paul Yancich, principal timpanist of the Cleveland Orchestra.
"As the cacophonies piled up and the rhythms came apart and the whole thing got really loud --- with percussionist Tom Sherwood whacking the life out of the big bass drum, which was positioned high and in back, like a sacrificial altar --- Spano's concept turned from modesty to savage brilliance."
— Atlanta Journal Constitution