Piano
| Worldwide Representation
Pianist Zoltán Fejérvári is the winner of the 2017 Concours Musical International de Montréal and recipient of a Borletti-Buitoni Trust Fellowship in 2016.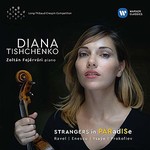 Diana Tishchenko, violin
Zoltán Fejérvári, piano
Ravel: Sonate pour violon No. 2 in G Major, M. 77
Enescu: Sonate pour violon No. 3 in A Minor
Ysaÿe: Sonate pour violonNo. 3 in D Minor, Op. 27, "Ballade"
Prokofiev: Sonate pour violonNo. 1 in F Minor, Op. 80
"His new Piano Classics disc of the piano music of Leoš Janáček is the most sensitive and deeply probative recording of the Czech master I have heard… Fejérvári plays all the mature works with a sure grasp of Janáček's idiomatic style, drawing on a carefully calibrated spectrum of touch and, more importantly, a wealth of imagination… These deliciously understated performances reward repeated listening. I look forward to hearing more of the purity and imagination of Fejérvári's piano playing."
— Gramophone