Piano
| Worldwide Representation
Winner of the 2017 Concours Musical International de Montréal, Zoltán Fejérvári has emerged as one of the most intriguing pianists among the newest generation of Hungarian musicians.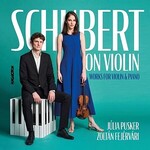 Júlia Pusker, violin
Zoltán Fejérvári, piano
"Fejérvári is a deeply communicative artist who combines an imperturbable yet magisterial command of his instrument with impeccable musicality. Those who have yet to hear him are in for a rare treat."
— Gramophone